Bugaboo Bee5 Mineral Light Grey Black Chassis Complete Pushchair
The compact chassis and a one-hand, one-piece fold makes it easy to hop into a taxi or out of a train.
Watch this product and we will notify you once it is back in stock.
Bugaboo Bee5 Mineral Light Grey Black Chassis Complete Pushchair
The compact chassis and a one-hand, one-piece fold makes it easy to hop into a taxi or out of a train.
Bugaboo Fox Mineral Collection
Inspired by colours of nature. Available from 1st October 2019.
Minimalistic, pure and naturally simple
Introducing the Bugaboo Mineral Collection. Bugaboos newest special edition is inspired by the colours of nature and offers you either the complete pushchair look, or a set that you can use to enhance your current pushchair. Thoughtfully crafted by Bugaboos in-house stylists, the design aesthetic centers around tranquil tones, new premium mélange fabrics and luxurious added details. It's a unique and timeless look, available for the Bugaboo Fox, Bugaboo Bee or Bugaboo Donkey. The Bugaboo Mineral Collection is naturally elegant and perfect for strolling anywhere in.
Refined fabrics and stitching
This special collection was crafted by our in-house stylists and comes in premium mélange fabrics, with subtle chain stitching in the sun canopy and carrycot. It's a unique and timeless look for pushchairs.
New fabric colours
The outer shell, seat and carrycot fabric are made from an exquisite taupe mélange with a blue-grey linen-look inner lining, or light grey mélange with cream linen-look lining.
Refined new details
Complementary leather look pushchair handles, and a coordinating underseat basket completes this refined, minimal look.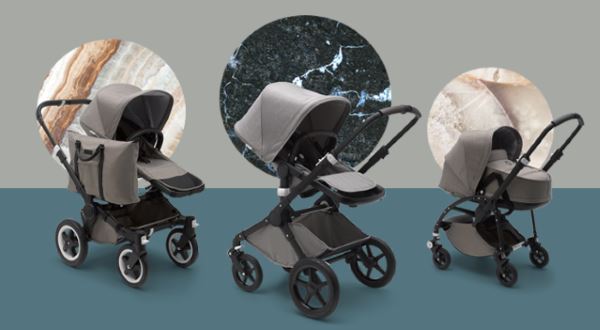 Bugaboo Bee5 - The urban stroller
the most comfortable and stylish compact stroller
Take city streets in your stride. The compact chassis and a one-hand, one-piece fold makes it easy to hop into a taxi or out of a train - a smart choice for urban adventurers with a newborn or toddler.
Meet the most comfortable urban stroller that drives like a dream. The front wheels have been redesigned to provide additional stability and swivel maneuverability. Your child can enjoy the ride from the comfort of their padded seat that grows with them — reversing, reclining and extending in just a few clicks. With attachment points built into the chassis, you won't need adapters to add on accessories like a Bugaboo cup holder or Bugaboo comfort wheeled board.
The Bugaboo Bee⁵ is the ultimate customizable stroller - choose from a new range of colors for your seat fabric, bassinet and extendable sun canopy. The changeable grips and wheel caps mean there are even more opportunities to show your style.
Characteristics
Show your style.
Mix and match from the wide range of colors, grips and wheel caps. (Extra colors are sold separately.)
Comfort for parent and child.
A smooth ride and luxurious leather-look grips for soft handling.
Drives like a dream.
Four-wheel suspension for a smooth, stable, comfortable ride.
Grows with your child.
The comfortable seat features a height-adjustable backrest.
Compact & easy.
Easily folds with one hand, light to carry and fits almost anywhere.
Features
Extendable sun canopy
for protection against the sun, wind and rain.
Drives like a dream
A smooth ride helps you take urban life in your stride.
Reversible seat
Facing you or facing the world, changing the direction of the seat is child's play.
Reclinable seat
Sit up straight when awake, recline when relaxed, or lie flat when fast asleep.
Extendable seat
Pull the seat out to support small legs or when babies are asleep. Push it back in for bigger children.
Height-adjustable backrest
Grows with your child in four steps. The sun canopy and five-point harness simultaneously adapt.
Height-adjustable handlebar with leather-look grips
Enjoy comfortable, one-hand steering, no matter how tall you are.
Light chassis, easy compact fold
You can easily fold the Bugaboo Bee⁵ with one hand. The one-piece fold is compact, light to carry and fits almost anywhere.
Seat suitable from birth
Keep things compact and cozy from birth with the Bugaboo Bee Baby Cocoon (available to purchase separately) in the comfortable lie-flat seat.
Independent bassinet
Ideal for newborns, the bassinet (available to purchase separately) can stand independently on the ground.
Choose your style
Changeable seat fabric, sun canopy, grips & wheel caps.
Independent four-wheel suspension
Turns smoothly and provides a stable, comfortable ride.
Car seat compatible
use Bugaboos adaptors for car seat compatibility
Comfortable seat, secure harness
The adjustable harness holds your child snugly in the padded seat.
Design
mix, match & show your style
Be inspired by the non-stop whirl of life in the city, and use the colorful fabric sets to creatively style and restyle your Bugaboo Bee⁵. Extra colors, plus changeable wheel caps and grips now give you even more color options.
Customize your Bugaboo Bee⁵ with countless different color combinations. Choose bold basics from the Core Collection, muted mélanges from the Premium Collection, or gorgeous prints from the Signature Collection. Pick whichever colors you like for the chassis, extendable sun canopy, seat fabric, bassinet fabric, grips and wheel caps.
Bugaboo fabrics are designed for daily use:
breathable, durable, comfortable and weather-resistant
UPF 50+ sun canopy for extra protection
easily removable
wash it as often as you wish
What's included:
This item contains:
Box 1 Bugbaoo Fox Base
Box 2 Bugbaoo Fox Mineral Style Set Complete (sun canopy included)
Content Box 1, Base Black:
Bugaboo Bee5 Chassis, black
Swivel front wheels & non-swivel rear wheels
Seat hardware
Seat foam
Comfort harness
Sun canopy wires
Sun canopy clamps
Content Box 2, Style Set Complete Light Grey:
Extendable Sun Canopy, Light Grey, cream lining
Seat fabric, Light Grey
2 pcs leatherette handlebar grips, brown
4 pcs front wheel, wheel caps, black
2 pcs rear wheel, wheel caps, black
Underseat basket, Light Grey
Rain cover
Sold separately:
Please note! The bassinet is sold separately. The sun canopy is transfered between the bassinet and the seat.

Bugaboo also has a lot of accessories e.g. car seat adapters, changing bags, seat liners, footmuffs and much more.
Technical specs
6" swivel wheels and 6" rear wheels with durable foam-filled rubber tyres..
Five-point harness with height-adjustable shoulder straps.
Changeable seat fabric, sun canopy, grips & wheel caps.
All fabrics washable.
Weight: +/- 8.9 kg / 19.6 lbs.
Folded lwh: 90x46.5x32 cm / 35.4x18.3x12.6".
Unfolded width 53 cm / 21".
Underseat basket: 22 liter / 5.8 gal. / max weight: 4 kg / 8.8 lbs.
Seat: 17 kg
Extra warranty
Bugaboo offers a complimentary extra year warranty on all pushchairs and the Bugaboo Donkey extension set. To activate this extra year of warranty simply register your Bugaboo product online, within 3 months of purchase.