Troll Furniture Royal Changing Table Grey
Troll Furniture Royal changing table in grey with a stylish silver crown painted on the cabinet door. With detachable boot
Watch this product and we will notify you once it is back in stock.
Troll Furniture Royal Changing Table Grey
Troll Furniture Royal changing table in grey with a stylish silver crown painted on the cabinet door. With detachable boot
GREY CHANGING TABLE WITH A CROWN
Classic and timeless care agency from the popular Royal series with the characteristic crown hand-painted on the cabinet door. If you choose a gray color, the crown is painted in a reflective silver color. Depending on how the light falls, the color of the crown changes a magical detail. Royal Office has several functions and adorns its place in the nursery for several years to come. When the changing area is no longer needed, it is easily lifted and you get a nice bureau with a cabinet and three drawers.
TROLL ROYAL CHANGING TABLE/DRESSER , GREY
Dimensions Width: 89/93 cm | Depth: 51/81 cm | Height: 97 cm
Changing area width: 85 cm | Depth: 78 cm
Material Birch / MDF
Care Wipe with a damp cloth. Avoid strong detergents or abrasives
Max weight 15 kg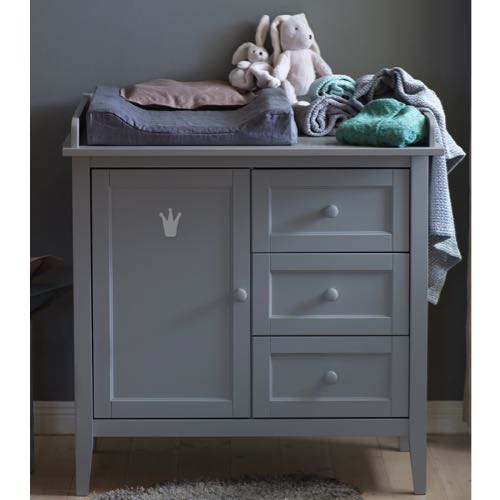 Troll has high quality requirement and checks every step from the timber entering the factory until a finished product leaves.
Color, varnish and glue are water-based, environmentally friendly and Swedish-made.
The furniture is made of mdf and solid birch from northern Europe
All Troll furniture is tested in a number of test institutes to meet both European and American standards
Troll takes responsibility for the environment and recovers the production leftovers, for among other things, heating the factories. There is alson a recycling system for paint and glue.